Senator Banus (Estepona) in Marbella
Free Planning Service

Marbella Based Team

Local Knowledge & Unbiased Advice

Personal Travel Assistant

Make Plans From Your Pocket

Flexible Payments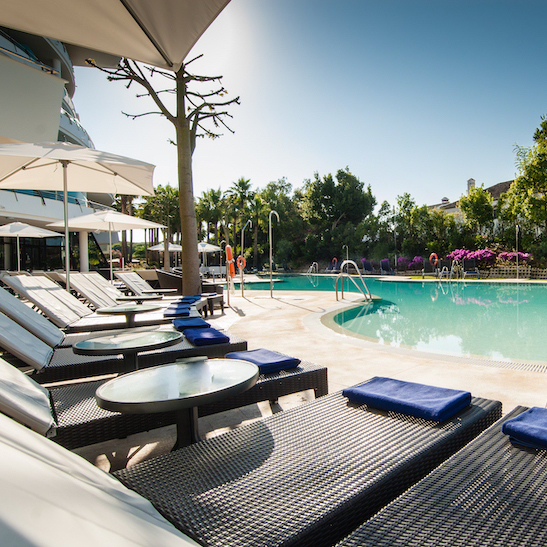 Sleeps: 2-3 Per Room

Bedrooms: Dependent on room type chosen

Bathrooms: Dependent on room type chosen

Pools: 2 Outdoor & 1 Indoor

Free Wifi: Yes

Please check prior to making your reservation
Distance to Puerto Banus Marina: 7.2 KMs

Distance to Beach: Less than 10 minutes walk
This five star rated Spa hotel is the perfect pick if you're looking for a chilled, calm and luxurious hotel that isn't too far from everything that Marbella has to offer! Situated just 6 minutes drive from Puerto Banus this hotel is great for groups that have mixed age ranges or want to factor some chill and tan time into their vacay. The hotel has a stunning indoor spa area and 2 outdoor pools (one on the 7th floor of the hotel, which has incredible views and is amazing for tanning!). The beach is less than a 10 minute walk away and the hotel is located close close to supermarkets and restaurants. If you're looking for a hotel with the wow factor, this is it! Get in touch with the MMW team using the contact box below to get a quote for your holiday dates. (prices listed are per night)
What's Included
Iron Television Telephone Air conditioning & Heating Mini-bar (extra cost) Free safe Free Wi-Fi Wake-up service 24h luggage storage Dry-cleaning and laundry service (surcharge) Sound-proof windows Toiletries 24h room service Bath with shower Hairdryer
What's Not Included
Breakfast (additional charge)
What's Included?
Iron Television Telephone Air conditioning & Heating Mini-bar (extra cost) Free safe Free Wi-Fi Wake-up service 24h luggage storage Dry-cleaning and laundry service (surcharge) Sound-proof windows Toiletries 24h room service Bath with shower Hairdryer
What's Not Included?
Breakfast (additional charge)
Terms & Conditions
Please confirm cancellation terms and conditions with your holiday planner prior to booking
Book This Accommodation Now
With a few details we can quickly get in touch with you to manage your group booking.