ATICO Jacuzzi Marina Apartment (1 Bedroom) in Marbella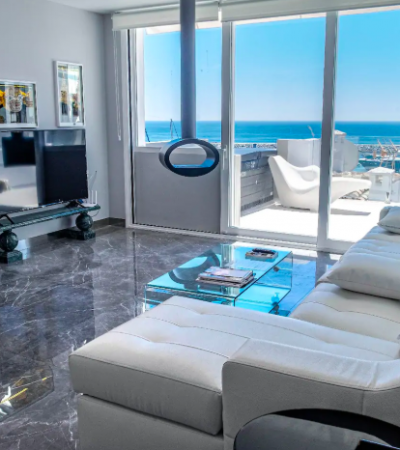 ATICO Jacuzzi Marina Apartment (1 Bedroom)
No Extra Fees

Full-Time Support from the Marbella Team

Same price as booking direct
Sleeps: 3

Bedrooms: 1 (2 Single Beds, 1 Sofa Bed)

Bathrooms: 1

Pools: 1 Jacuzzi

Free Wifi: Yes

No
Distance to Puerto Banus Marina: Directly behind the Puerto Banus Marina.

Distance to Beach: 2 minutes
Beach. Sleep.Party.Repeat. This apartment is perfect for guests that want to cram as much Marbella in as possible! Within walking distance to all of Puerto Banus' world famous beach clubs and bars, popping home for a quick change between events could not be easier. Where is this apartment located? Directly behind the Puerto Banus Marina. Walking distance in minutes from: The beach: 2 minutes The nightlife:Less than 1 minute. Plaza Beach Club: 2 minutes. Ocean Club:7 minutes Taxi Rank:2 minutes Supermarket:2 minutes Pool:No Additional Extra's available: Decor and Balloons on arrival. Airport Transfers Get in touch for more details on how to book this apartment for your Marbella trip.
Terms & Conditions
The Small Print Prices displayed are per night Prices from €300 per night, September – June, Minimum stay 3 nights July – August, Minimum stay 7 nights Please see our terms and conditions for more information- the cancellation policy for this apartment will be sent alongside any quote requested.. Reservations will only be confirmed once payment has been received and confirmed via email.
Book This Accommodation Now
With a few details we can quickly get in touch with you to manage your group booking.