"Discover Marbella's hottest bars for unforgettable hen and stag nights. From lively nightclubs to chic lounges with bottomless drinks, this guide has you covered. Cheers to a memorable celebration in Marbella!"
Top 10 Bars for Marbella Hen and Stag Parties
If you're planning a hen or stag party in Marbella, the fun doesn't stop when the sun goes down. Marbella is renowned for its vibrant nightlife, and the city offers a fantastic array of bars to keep the party going well into the night. Whether you're in the mood for cocktails, dancing, or live music, this list of the top 10 bars in Marbella is your ultimate guide to an unforgettable night out.
1. La Sala
Kick off your night at La Sala, one of Marbella's trendiest bars. Located in Puerto Banús, La Sala offers a lively atmosphere, fantastic cocktails, and live music. It's the perfect place to start your evening with a few drinks and some good vibes.
2. Pangea Marbella
For a more upscale experience, head to Pangea Marbella. This swanky rooftop bar boasts stunning views of the Mediterranean, luxurious decor, and a sophisticated cocktail menu. Enjoy the high life with your friends as you sip cocktails and take in the breathtaking scenery.
3. Astral Cocktail Bar
Astral Cocktail Bar is the perfect place for stags and hens to let their hair down, offering creatively crafted cocktails and a relaxed atmosphere. It's a great spot for those who appreciate expertly mixed drinks in a stylish setting.
4. Olivia Valere
Olivia Valere is an iconic Marbella nightclub that offers an extravagant experience. The bar here is just as impressive as the dance floor. You'll find a mix of cocktails, champagne, and a stylish crowd. It's the ideal spot for those who want to see and be seen.
5. News Café
Located in Puerto Banús, News Café is a long-standing favorite among locals and tourists. This bar offers a casual and relaxed atmosphere, making it an excellent choice for those who want a more laid-back night with good company.
6. Linekers Puerto Banus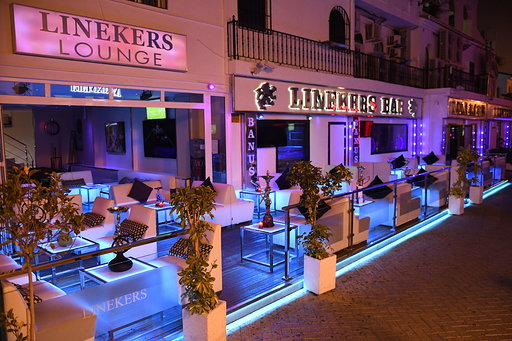 Linekers Puerto Banus is a popular bar in the heart of Puerto Banús, perfect for stags and hens to let loose and enjoy a lively night with a wide selection of drinks.
7. Babilonia Marina Front Bar
Babilonia Marina Front Bar offers a unique marina front setting. The bar is famous for its mojitos and sangria, making it a refreshing spot to enjoy a cool drink with your feet by the water.
8. Tibu Nightclub
Tibu Nightclub offers an electrifying night out. This nightclub features an array of drinks and live DJ performances. If you're in the mood to dance until the early hours, this is the place to be.
9. Suite
For a stylish and upscale night out, head to Suite. Located in Puente Romano Beach Resort, this bar offers a chic atmosphere and an extensive cocktail menu. Enjoy your drinks on the terrace with sea views.
10. Sky Bar Puerto Banus (1 Hour of Bottomless Drinks)
Sky Bar Puerto Banus offers a unique experience with one hour of bottomless drinks. It's the perfect way to kick off your night with your group, enjoying an array of drinks as you take in the stunning surroundings. Don't miss this special opportunity to raise your glasses and celebrate in style.
Contact the My Marbella Weekender team to book all of these venues and more for your Marbella 2024 trip.
With these top 10 bars in Marbella, your hen or stag party is sure to be an unforgettable experience. Whether you prefer upscale lounges, beachfront vibes, or lively nightclubs, Marbella has it all. Get ready to raise your glasses and toast to an incredible night in this beautiful city on the Costa del Sol. Cheers to a fantastic celebration in Marbella!